Basic Tips for Car Ac Repair & Maintenance Services Dubai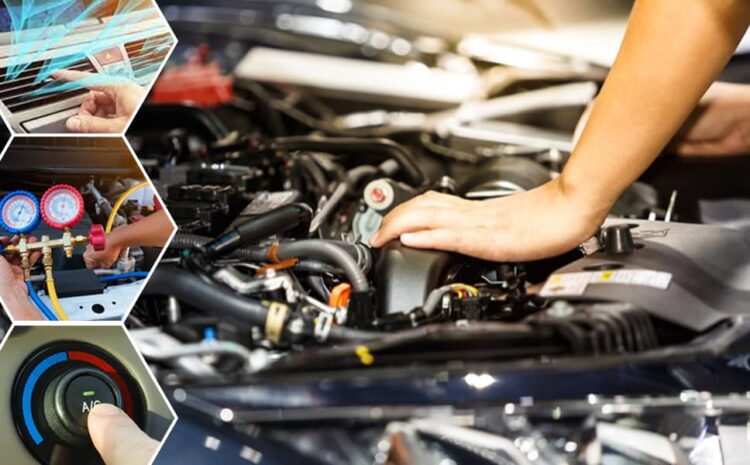 Air conditioning is a nice relief from the stifling heat in Dubai, particularly when driving. If your air conditioner isn't working correctly, traveling in hot weather may be frustrating.
Learning how to manage your car's AC might help you use it more regularly as summer is the season when AC is most needed. By keeping your car's air conditioning system in good working order, you may prevent expensive emergency repairs and guarantee that it performs as intended
Car AC repair is crucial for effortless and pleasant driving in Dubai. Your inquiries regarding whether a car's air conditioning system is easy to maintain will be addressed in this article. Here are some suggestions for auto AC repair and maintenance at a car service station in Dubai.
Tips to repair your AC:
1.      Use the air conditioning on your vehicle frequently.
It's a widespread misperception that often utilizing air conditioning will hurt it.
There is a common misconception that operating air conditioning frequently results in breakdowns. In actuality, the reverse is true. Your car's air conditioning system might be damaged if you don't use it regularly. An engine has to be utilized often for the best results. Likewise, to your car's air conditioning, if you fail to utilize it regularly. It won't work efficiently and you could have to pay a lot to get a car AC repair service.
Irrespective of the temperature, air conditioning must be used frequently. Use it on a weekly basis at least for 10-15 minutes. This will ensure that the refrigeration system for the air conditioner somehow doesn't collect dirt.
2.      Inspect the Refrigerant Degree
By having the mechanic check the coolant level when performing normal maintenance. It is crucial to make sure that your vehicle's cooling system is operating correctly. When taking your car in for maintenance, be sure to ask the mechanic to test the refrigerant. Because a shortage of refrigerant can cause a number of cooling-related problems.
3.      Routine car air conditioning maintenance
Vehicle air conditioning systems require routine maintenance and service in order to function properly. You run the danger of damage if you don't schedule AC servicing for your automobile.
End up making sure to regularly fix your air conditioner by taking your car to the mechanic. The machine will last longer as a result. The finest maintenance services and car AC repair in Dubai are offered by Dar Al Madina Garage.
4.      Don't pre-cool your vehicle:
Although it may seem like pure pleasure to begin your trip with a cold cabin in your vehicle. Especially in the sweltering heat of Dubai, but you must avoid doing this.
Only after starting the engine should you power on the air conditioning in your automobile. This is the reason why your car's cooling system will perform a lot better once the engine is going. You also stop wasting fuel altogether.
5.      Regularly recharge the air conditioning system:
The air conditioning system in your automobile can run lacking the necessary supplies due to Dubai's harsh temperature. To avoid this, it is strongly essential that you get your car's air conditioning system refilled on a regular basis. To keep your automobile working in the best condition, you should always keep an eye on when you should take your car for AC repair service in Dubai.
6.      Take Out Junk
In vehicles, the air conditioning system is renowned for removing different kinds of trash from the cabin. Blockage is so anticipated. Unclogging and cleaning the car AC system is one of the most popular car AC repair and maintenance recommendations in order to keep your car AC from suffering problems like those stated above.
Seek Expert Car Service Station for your Car AC Repair in Dubai:
Some automobile owners might think it's easy to keep their air conditioners in working order. Not at all. Equipment and techniques specific to cleaning the automobile AC are needed. As a result, seek expert help and have your car's air conditioning cleaned and maintained frequently. Excellent car AC repair & maintenance services are available in Dubai from Al Madina Garage for vehicles of all sizes and types. Offering all kinds of car AC repair, cleaning, and maintenance services, our technicians and mechanics in Dubai are knowledgeable experts, and professionals.
Dedicated to providing comprehensive automobile services and repairs, we are the top automotive facility in Dubai famous for car wash, car cleaning, car suspension service, all kinds of major/ minor repairs, engine diagnostics/ repair and so many other services. To get the best car AC repair in Dubai & maintenance services, feel free to contact Dar Al Madina Garage.
We are a well-known car service station in Al Quoz that deals in the repair of German cars, European vehicle and American automobile repair and maintenance at your service.