Do You Need Car AC Repair Services in Dubai?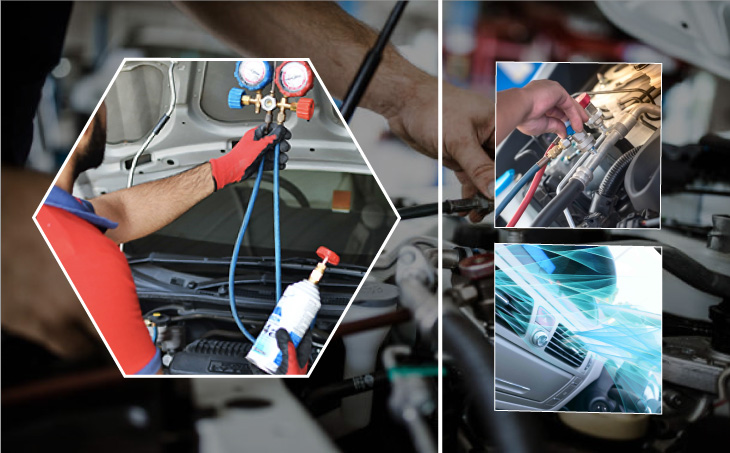 In Dubai's scorching climate, air conditioning (AC) in cars is a necessity, not a luxury. With temperatures often exceeding 40°C (104°F), AC provides essential comfort, safeguards against heat-related health issues, and maintains driver concentration. It's indispensable for a comfortable and safe driving experience in the extreme desert heat.
Due to Dubai's relentless heat, car air conditioning (AC) systems endure extensive use, leading to wear and tear. Dust and sand particles further strain components. Regular maintenance is essential to prevent refrigerant leaks, compressor failures, and cooling issues. Timely repairs are required for consistent AC performance in the challenging climate.
In this blog, we will discuss the indicators when your car needs AC repair service or maintenance.
Major Signs Detecting Car AC Repair Need
If you experience any of these indicators, it's advisable to have your car's AC system inspected and repaired by our professional technician.
Weak Cooling:
If the air from your car's AC vents isn't as cold as usual or takes longer to cool the interior, it's a sign of a potential issue.
Odd Noises:
Unusual sounds like rattling, hissing, or squealing when the AC is running might indicate a malfunctioning component.
Foul Odors:
A musty or moldy smell when the AC is on suggests bacterial growth in the system, often due to moisture accumulation.
Leaking Fluids:
Puddles or oily spots under the car could mean refrigerant or AC system fluid leaks, which require immediate attention.
Inconsistent Airflow:
If airflow varies between vents or isn't consistent, there might be blockages or issues with the blower fan.
Compressor Clutch Issues:
A clicking noise when the AC engages or a constantly spinning clutch could point to compressor problems.
High Cabin Temperatures:
If the AC struggles to maintain a comfortable cabin temperature, it might be due to a malfunctioning sensor, valve, or compressor.
Increased Fuel Consumption:
A malfunctioning AC can strain the engine, leading to reduced fuel efficiency.
Dashboard Warning Lights:
Some modern vehicles have AC-related warning lights that illuminate when there's a problem.
Visible Refrigerant Leaks:
If you notice a green or oily substance around AC components, it's likely refrigerant leakage.
Car AC Repair Reasons
AC problems can be due to these below-stated issues. Restoring optimal cooling, maintaining comfort, and preventing further damage to your car's AC system requires a car AC repair garage visit.
Compressor Malfunction: A faulty compressor can't circulate refrigerant effectively, resulting in poor cooling performance.
Electrical Problems: Wiring issues, blown fuses, or faulty sensors can disrupt the AC system's operation.
Condenser Problems: Damage to the condenser, located in front of the radiator, can lead to inadequate heat dissipation.
Blower Fan Failure: A malfunctioning blower fan reduces airflow through the vents, affecting cooling.
Clogged Evaporator Coil: Dirt and debris accumulation on the evaporator coil hinders heat exchange and cooling.
Mold Growth: Moisture buildup in the AC system can accommodate mold and bacteria growth, causing unpleasant odors and health concerns.
Belt Problems: A worn or damaged AC belt can result in reduced compressor function and cooling.
Excessive Engine Load: A malfunctioning AC system can strain the engine, affecting overall vehicle performance.
Best Car AC Repair Services in Dubai
When seeking the best car AC repair services in Dubai, prioritize expertise, reliability, and customer satisfaction.
Dar Al Madina Garage
Al Madina Garage stands as a well-regarded general automobile repair workshop, renowned for delivering superior-quality services. Our establishment is rooted in Dubai, strategically situated in Al Quoz, and boasts more than two decades of profound experience within the automotive sector.
At Al Madina Garage, you'll find your ultimate stop for an array of automotive repair solutions. Our adept and devoted team of experts is steadfast in ensuring your motoring experience is both comfortable and exhilarating. We offer a comprehensive range of quality services that encompass authentic accessories, attentive servicing, and more. Your journey to automotive excellence finds its destination here.
Why Choose Us
Choose Dar Al Madina Garage for your car AC repairs and experience expert solutions, fair pricing, a proven track record, and swift service. Your satisfaction is our priority, and we're committed to keeping you cool and comfortable on the road.
Expert Mechanics: Our skilled technicians are specialists in car AC repair, equipped with extensive knowledge and experience to diagnose and solve complex AC issues effectively.
Reasonable Price: We believe in fair pricing without compromising on quality. Our services offer excellent value for money, ensuring you get expert AC repairs without breaking the bank.
Thousands of Trusted Clients: With a vast and satisfied client base, we've built a reputation for delivering reliable car AC repair services. Our client's trust is a testament to our dedication and expertise.
Timely Repair: We understand the importance of a functioning AC in Dubai's climate. Our team works efficiently to provide timely repairs, minimizing your inconvenience and ensuring your comfort.
The Gearbox
It is renowned for its exceptional AC repair solutions. With years of experience serving Dubai's diverse climate needs, their skilled technicians offer comprehensive diagnostics and swift, effective repairs. They specialize in diagnosing issues such as weak cooling, odd noises, and refrigerant leaks, ensuring your car's AC system operates at its best.
Profix Auto Care
It is another top choice known for its commitment to quality and customer-centric approach. Their certified technicians excel in diagnosing and repairing complex AC problems and addressing issues related to airflow, compressor function, and overall system performance. Their modern facilities and genuine parts ensure long-lasting repairs and customer satisfaction.
Orange Auto
For top-tier service, consider Orange Auto Car AC repair services. With a focus on transparency and personalized attention, their experts diagnose AC issues using advanced tools and provide clients with specific repair solutions. From refrigerant recharging to compressor replacements, they excel in restoring optimal AC performance.
Conclusion
Ultimately, when selecting car AC repair services in Dubai, choose us as we have a track record of excellence, a commitment to customer needs, and a thorough understanding of the region's demanding climate. We have positive reviews, and appropriate certifications, and provide warranties of our services.