Tips and Tricks for Maintaining Audi Suspension Dubai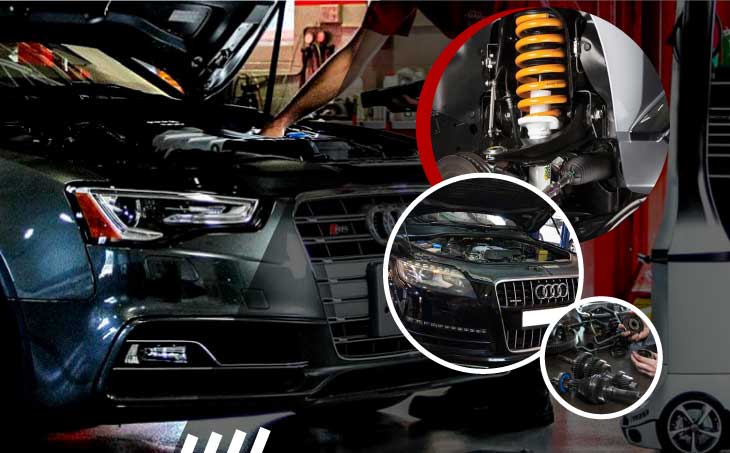 Introduction:
If you own an Audi in Dubai, making sure your Audi service in Dubai performs at its best and lasts as long as possible is very important. The Audi suspension is one of the important parts that need regular Audi service in Dubai. In addition to improving your driving satisfaction, regular maintenance of Audi Suspension Dubai provides safety while driving. In this blog post, we cover useful tips and tricks for maintaining Audi Suspension Dubai, with a particular focus on the reputable Audi Repair Dubai at Dar Al Madina car service station.
Some Useful Tips for Audi Suspension Dubai:
Maintaining Audi Suspension Dubai is very important for a smooth and better driving experience. You need to get a professional Audi service in Dubai for quality Audi repairs. Here are some useful tips and tricks for maintaining Audi Suspension Dubai.
Regular Inspection of Audi Suspension:
A regular and timely inspection is very important for finding any potential problems with Audi Suspension Dubai. Catching problems early can save you from costly Audi repairs and ensure your safety on the road. Through timely inspections, you can ensure that your Audi suspension components are functioning as they should, providing a smooth and comfortable ride. Make sure to plan regular checkups at reputable car service garages like Dar Al Madina Garage in Dubai. Their skilled specialists will inspect the Audi suspension parts, looking for wear, leaks, and corrosion.
Follow Up with Maintenance Tasks:
Follow the manufacturer's recommended maintenance schedule for your Audi suspension Dubai. This involves various functions like tightening bolts and nuts, inspecting and adjusting shock absorbers, evaluating the quality of springs, and lubricating joints. Following these maintenance procedures will help your suspension parts last longer. By staying on top of these maintenance tasks, you can preserve the performance, stability, and longevity of your Audi suspension system in Dubai. Trust Dar Al Madina as a reliable car service station, specializing in Audi repairs Dubai, to ensure proper examination and execution of maintenance tasks.
Bearings and Joints:
Joints and bearings are important components of the Audi suspension system. Proper maintenance of these parts is necessary for optimal performance and a long lifespan. Properly inspect the joints and bearings for signs of wear, damage, or looseness. Dirt and contaminants can cause wear and damage to joints and bearings. Regularly clean these components to remove any buildup. Proper lubrication is an important aspect of joints and bearings for smooth driving and optimal performance.
Maintain Regular Tyre Service:
Maintaining your Audi suspension in good condition requires proper tyre service. Make sure your tyres have been pumped to an appropriate pressure. Regularly inspect the tyre pressure and make any adjustments as needed. It plays a vital role in overall safety and optimal performance in Audi Suspension Dubai.
Be Alert of the Road Conditions:
Driving on Dubai roads can be very challenging for any car. Be careful of rough surfaces, holes, and speed bumps, and make every effort to avoid them. When driving on rough or uneven surfaces, adjust your driving style to minimize impact. You may put less strain on the Audi suspension system by focusing on the road's conditions.
Resolve Issues Immediately:
If you observe any signs of suspension issues, such as unusual noises, vibrations, or uneven tire wear, don't hesitate to contact a car service station for quality Audi repair in Dubai. Addressing Audi suspension problems immediately may prevent further harm and more expensive repairs. For deep inspections and efficient repairs, contact a reliable Audi repair station in Dubai.
Why are regular Audi Suspension Inspections important?
Regular Audi repairs in Dubai from a reputable car service station are an essential tip for maintaining your Audi's suspension in Dubai.
Timely Problem Detection:
Through routine inspections, qualified mechanics can identify any possible issue with the Audi suspension system before it becomes a more serious issue. Early detection of issues can save you from expensive repairs and ensure your safety while driving.
Effectiveness at its Best:
A well-maintained suspension system offers performance at its Best, increasing your driving experience. You can make sure that your suspension parts are working properly and giving you a smooth and comfortable ride with timely Audi repairs in Dubai.
The durability of the Audi Suspension system
The roads in Dubai might be hard on your car's suspension. Regular checks ensure the long-term reliability of your suspension components by preventing excessive wear and difficulty. The suspension system on your Audi can last longer if problems are fixed quickly.
Conclusion:
Maintaining Audi Suspension Dubai is important for a comfortable and secure driving experience. By taking services from the Dar Al Madina car service garage, you can make sure that your Audi suspension receives specialized care. The best performance and durability of your Audi suspension system will be maintained with routine inspections, careful maintenance of components, tyre care, and sensible driving practices. By following the given tips and tricks, you can ensure the optimal performance and longevity of your Audi suspension in Dubai's challenging driving conditions.