Tips to Get Maximum Cooling from your Car's AC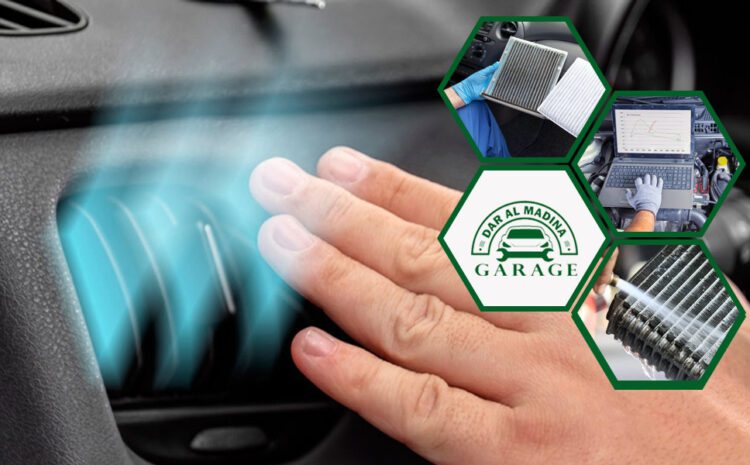 Introduction:
Countries like Dubai face a high level of heat during the summer. A fully functional car air conditioner is very important for a peaceful journey when someone goes out in strong heat. For that, you need to know how to maximize its cooling. We have given some tips and tricks to get the maximum cooling performance for your car's AC. Also, we would like to let you know about the best car AC service in Dubai.
Points for maximizing cooling performance:
Most people think that they only need to get services and maintenance every time for better performance of their car's AC. But sometimes it depends on the daily driving routine you follow. You are recommended to take the best car service from Dar Al Madina. Here are some ways that you must consider:
Clean Air Filter:
A non-maintained and dusty cabin air filter can stop or decrease the cooling capacity. If you clean cabin air filters on a daily basis, it can save you from the expense of car AC service and maximize efficiency. Dar Al Madina is highly recommended for car AC repair in Al Quoz, Dubai.
Regular Maintenance:
To keep your car well maintained, regular maintenance of car air conditioning service is very important. It improves air quality and prevents high costs. It ensures the long life span of your car's AC system. You can find quality car ac repair services from the expertise of Dar Al Madina.
Cleaning of the condenser and evaporator:
The condenser and evaporator are the two main components of the car's AC system. By keeping these components dirt-free, you can enjoy the super performance of your car's AC. If you cannot perform this by yourself, then you are highly advised to get a car AC repair service near Al Quoz.
Protection from direct sunlight:
Try to park your car in a shaded place. It helps with direct sun exposure. This method will take the least amount of time to cool the cabin. It provides you with quick and efficient cooling.
Pre-cool your car:
Before driving a car, open the windows or doors for a moment to let the hot air go out. Then, turn on the AC and set it to its maximum cooling setting. This simple step helps you expel the hot air faster, allowing the AC to cool the interior more rapidly.
Why should you choose Dar Al Madina for the best car air conditioning services?
Since 2005, Dar Al Madina Car Garage has provided reliable car repair services to customers. They are among the top car garages in Dubai. We use the latest technology, machinery, and tools to fix any error. Our team is an expert in providing various services at reasonable prices. Our professionals are well-educated and trained to solve any query. We offer the best car AC repair in Al Quoz, Dubai.
Dar Al Madina Car AC Repair Services in Al Quoz, Dubai:
Dar Al Madina provides solutions to various factors that cause car air conditioners to stop working. You will feel secure in trusting and taking car AC repair services from them. They provide the following car repair services in Al Quoz:
Leaked condenser:
If the condenser of the car is leaking, it affects the overall AC performance. It decreases efficiency and causes fluctuations in cooling capabilities. If the leakage comes into contact with other parts, it can also damage them. In this issue, the expert team at Dar Al Madina identifies the source of the leak and uses appropriate and quality tools to fix it.
Compressor clutch problems:
If the car's AC is not performing well, then it might cause a mechanical issue in the compressor clutch. Dar Al Madina Car Garage deeply monitors this particular issue. They restore its proper functioning and ensure efficient cooling.
Incorrect refrigerant level:
The refrigerant level is responsible for absorbing heat inside the air and cooling it down. If the refrigerant level is not correct, the car's AC could not reach the desired destination. If you are facing this issue, you need to go to our professionals for car AC repair.
AC Control Head:
It can lead to many issues when there are malfunctions in the AC control head of a car. It impacts certain operations of the AC systems. Our experts identify the extent of the malfunction and repair it using qualitative machines.
Conclusion:
Hot weather in countries like Dubai makes people want a well-maintained and best car AC service for a comfortable driving experience. Regular maintenance, cleaning the air filter, and keeping the condenser and evaporator clean are necessary steps in maximizing cooling performance. Additionally, protecting your car from direct sunlight can help increase the efficiency and effectiveness of your car's AC. For the best car AC service in Dubai, visit the trustworthy and loyal experts who can ensure your AC is in top condition for your journeys in the city's heat.