Advantages of Professional Car Brake Service in Dubai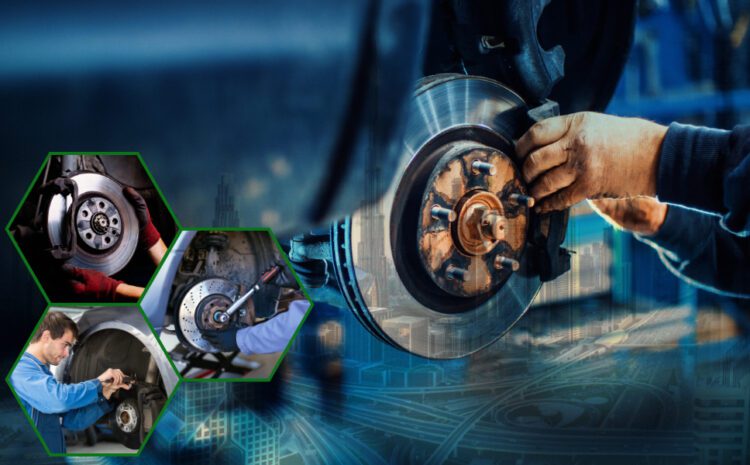 Introduction:
When it comes to your car's safety and performance, one of the most essential components to prioritize is the car brake service. Regular car brake service in Dubai is important to maintain optimal performance. It ensures the safety of you and your passengers on the roads of Dubai. For quality car brake service, you need to get a professional car service station like Dar Al Madina. It is a car garage near Business Bay where you can experience a range of benefits that will contribute to the long-term reliability of your car brake system.
Benefits of Car Brake Service in Dubai:
When you regularly get car brake service at a reliable car service station, you are guaranteeing the safety of your car brake throughout your entire journey. There are various benefits to car brake service in Dubai, which are mentioned below.
Quality Brake Components and Equipment:
Dar Al Madina is aware of the need to use outstanding car brake components and the latest tools for performing car brake service in Dubai. You can be assured that your car will only have authentic, reliable brake components when you choose their skilled services. Using high-quality brake parts ensures the reliability and dependability of the repaired or replacement parts. Dar Al Madina can restore your car brake system to its original specifications due to its access to genuine parts, ensuring the best performance and security.
Efficient Brake Inspections:
Regular brake inspections are essential for identifying potential issues and addressing them promptly. Professional car service stations near business bay in Dubai, including Dar Al Madina, provide comprehensive car brake inspections as part of their service offerings. These inspections involve a thorough examination of various brake components, including brake pads, rotors, calipers, brake lines, and fluid levels. By detecting and resolving problems at an early stage, further damage can be prevented, minimizing the risk of brake failure and ensuring the safety of your vehicle.
Reliability and Protection:
Car Brake service in Dubai taken by professionals ensures the safety and reliability of your car. By having car brake maintenance services from Dar Al Madina car service station, you can drive with confidence, knowing that your brakes have been serviced by skilled technicians who prioritize your safety. Potential brake issues are found and fixed with the help of inspections and repairs from experienced technicians, minimizing the possibility of accidents brought on by brake failure. Dar Al Madina car garage near business bay gives thorough attention to every component, ensuring that your braking system operates at peak efficiency and provides you with reliable brake force when you need it most.
Optimized Performance:
Regular and timely car brake service by professionals ensures that it performs at its best. As a result, there is an increase in availability, lower stopping distances, and an overall smoother driving experience.
Cost savings:
Timely brake maintenance can save you money by preventing expensive future repairs. By taking care of minor problems as soon as they arise, you minimize problems growing into major issues that might need costly solutions or component repairs.
Increased Brake Duration:
The duration of a car brake in Dubai can be greatly extended with proper maintenance and quality repair. Your brake pads, rotors, and other parts will wear evenly with regular inspections, adjustments, and replacements as necessary, reducing early wear and extending their total lifespan.
What are the common car brake issues?
There are certain car brake problems, which are mentioned below.
Brake Fluid Leakage:
Brake fluid leaks can be a serious issue when it comes to your car brake system. Brake fluid is an important component that transfers the force from your foot on the brake pedal to the car. When there is a leak in the brake system, it can lead to a loss of brake fluid and decrease the performance and safety of your brakes.
Damaged Brake Pads:
As a result of friction with the rotors, car brake pads experience severe wear and tear. They require replacement as they get older and weaken. Reduced braking effectiveness and longer stopping distances are two effects of worn car brake pads.
Car Brake Noise:
Car Brakes may produce various noises, such as grinding or scraping sounds. These noises can indicate worn brake pads, damaged rotors, or loose brake hardware. Ignoring these noises can lead to further damage and lower the efficiency of car brakes.
Why Choose Dar Al Madina Car Service Station for Car Brake Service in Dubai?
Choosing a car garage near business bay offers convenience in terms of location. It is more comfortable to drop off and pick up your car. It becomes more helpful and decreases disruption to the daily routine. Professional car service stations prioritize exceptional customer service. Dar Al Madina car service station provides experienced and friendly staff available to sort out any query or question, ensuring satisfaction and personalized for every customer.
Conclusion:
Car brake service is not just an essential aspect of car maintenance; it is extremely important for your safety on the road. Car brake service in Dubai offers a range of benefits, including enhanced safety, improved performance, prolonged brake lifespan, cost savings, warranty compliance, improved fuel efficiency, and peace of mind. Regular maintenance and inspections are vital to ensuring that your brakes are in top condition, providing optimal safety and performance. By prioritizing professional brake service in Dubai, you can drive with confidence, knowing that your braking system has received expert care. The car garage near business bay provides premium quality repair services to its customers.