Complete Car Detailing Service in Dubai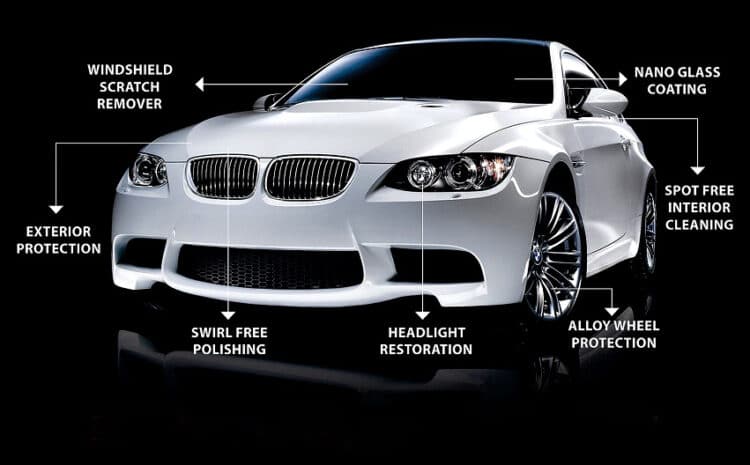 Car detailing boosts the durability of the vehicle because you may clean the cars while paying attention to every automobile detail. Here are a few of Dubai's most essential and dependable vehicle detailing services you can avail in affordable prices.
The skilled detailers at Al Madina Garage understand how important it is to protect and present your car. We pay special attention to the minute details that are occasionally overlooked. Our vehicle detailing packages provide clients with a range of services, such as complete body polish, minor paint repairs, interior restoration and conditioning, and guaranteeing the engine is as good of shape as the rest of your car.
Why Al Madina Garage
We are seasoned specialists who get the significance of first impressions for car owners. To ensure that you always travel confidently, we only provide the highest caliber automobile detailing services in the area. With Dar Al Madina Garage, you won't have to struggle to find auto detailing shops in the UAE with the necessary skills, experience, and tools to satisfy your needs.
We collaborate with the largest network of car-wash and car-detailing service providers in the UAE so you can quickly and easily find the finest deals in the comfort of your local area. We connect you to Dubai's top-rated auto detailing service providing companies to restore your car's brand-new luster and bring out its lustrous attractiveness. Additionally, you receive complimentary servicing for Dubai's longest-lasting automobile paint protection system.
Why Does Your Vehicle Need Car Detailing?
It's crucial to have a good car cleaning session. In a metropolis in the desert, the sun frequently damages metal surfaces, necessitating constant maintenance and protection.
Dubai's UV radiation levels might rise to the point where the car's paintwork is at risk. The car's paint might peel, discolor, and break if not maintained correctly. The vehicle's interior may experience a greenhouse gas impact from these radiations, which might seriously harm the upholstery and interior finishes.
As a result, it is crucial to ensure that you have protected the car from the damaging effects of the sun and heat. You can find the finest discounts on auto detailing in the UAE at Dar Al Madina Garage. Restore your car's original luster and give it a high-quality protective coat to protect it from the summer sun and road grime.
Benefits of Car Detailing
Here are some of the benefits of Car detailing services.
Maintains and fixes your exterior painting
Various factors can cause swirl marks and poor paint, but vehicle detailing can help remove deep scratches from your paint job without damaging it. Professional-grade wax is applied to the exterior to add protection until your next service.
It keeps your upholstery clean.
An auto detail will offer a thorough cleaning and occasionally protective chemicals. Regardless of the kind of upholstery your car has. A protective moisturizer is applied to leather surfaces to stop cracking and rips.
A shampoo may use to remove stains from soft surfaces, and a fabric guard may use to shield against new stains.
Improves a car's performance
Cleaning the engine is part of detailing beyond merely improving your car's appearance. Your automobile will operate more smoothly and at a lower temperature. That too by having the dust and grime from the engine removed. A routine car wash does not offer a significant advantage of auto detailing, that is, engine cleaning.
Prolongs the life of the car
Your car will naturally last longer if the engine is well-kept and functioning correctly. The surfaces inside and outside of your vehicle follow the same general rule. Fewer scratches, swirls, and bubbles will prolong the paint's lifespan on your car. The upholstery in your automobile will be spotless and free of any leather tears or deeply embedded stains.