Expert BMW Maintenance, Repair, and Service Garage in Dubai, UAE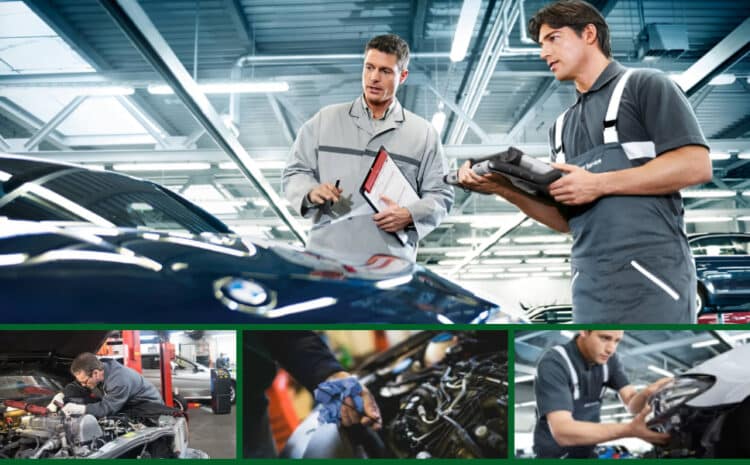 Best BMW Repair Garage in Dubai:
Welcome to Dar Al Madina Garage, your premier destination for top-notch BMW maintenance and repair service in Dubai and across the UAE. With our team of skilled technicians and state-of-the-art facilities, we offer comprehensive solutions to keep your BMW Car running smoothly on the roads of Dubai.
When it comes to maintaining the performance and longevity of your BMW, trust our experienced team at Dar Al Madina Garage. We understand the unique needs of BMW vehicles and provide a wide range of services tailored to keep them in optimal condition.
Common Services We Offer especially for BMW Cars in Dubai:
Trusted BMW Specialists for Exceptional Maintenance Services:
Our team consists of highly skilled technicians who specialize in BMW maintenance services in Dubai, UAE. From routine inspections to complex repairs, we have the expertise and knowledge to ensure your BMW receives the care it deserves.
Comprehensive BMW Diagnostic and Inspection Services:
Using advanced diagnostic equipment, we perform thorough inspections to identify any underlying issues with your BMW. Our detailed assessments help us provide accurate solutions and recommendations for maintenance and repair.
Quality BMW Engine Repair and Overhaul:
We offer comprehensive engine repair and overhaul services for BMW vehicles. Whether it's addressing minor engine issues or undertaking major repairs, our team is equipped to restore your BMW's performance and power.
Efficient BMW Brake Repair and Replacement:
Ensuring your BMW's brakes are in optimal condition is crucial for your safety on the road. Our garage provides expert brake repair and replacement services, including brake pad replacement, rotor resurfacing, and brake system maintenance.
Precise BMW Suspension Repair and Alignment:
If you notice issues with your BMW's suspension, such as uneven tire wear or a bumpy ride, our skilled technicians can perform precise suspension repair and alignment services. We use advanced equipment to restore the smoothness and stability of your BMW's ride.
Reliable BMW Electrical System Diagnosis and Repair:
From faulty wiring to malfunctioning components, electrical issues can be frustrating. Our team specializes in BMW major electrical system diagnosis and repair, ensuring that your vehicle's electrical system operates flawlessly.
Professional BMW Transmission Services:
Whether your BMW has a manual or automatic transmission, we offer expert transmission services to address any performance issues. Our technicians are well-versed in BMW transmissions, providing repair, maintenance, and fluid replacement services.
Dedicated BMW Air Conditioning Repair and Recharge:
To keep your BMW comfortable in Dubai's heat, we offer specialized air conditioning repair and recharge services. Our technicians are experienced in diagnosing and fixing AC issues, ensuring you stay cool on your journeys.
Expert BMW Oil Change and Fluid Services:
Regular oil changes and fluid checks are vital for maintaining the performance and longevity of your BMW. At Dar Al Madina Garage, we provide efficient oil change and fluid services using high-quality products to keep your BMW running smoothly.
Exceptional Customer Service and Convenience:
We prioritize your satisfaction and strive to deliver exceptional customer service. Our garage offers a comfortable waiting area, transparent pricing, and efficient service to ensure a hassle-free experience.
Conclusion:
When it comes to BMW maintenance, repair, and service in Dubai and the UAE, Dar Al Madina Garage is your trusted partner. Our dedicated team, extensive range of services, and commitment to quality make us the go-to destination for BMW owners seeking reliable and professional automotive care. Trust us to keep your BMW performing at its best on the roads of Dubai.