Top BMW repair and Service Centers in Al Quoz, Dubai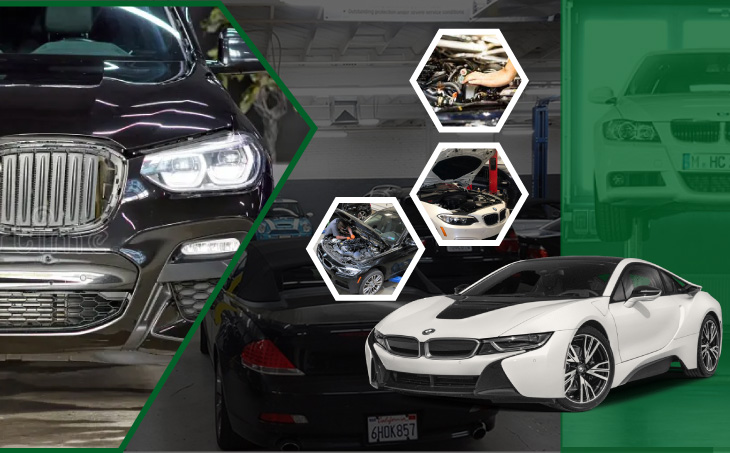 BMW is a well-known German automobile manufacturer that produces luxury vehicles and motorcycles. Are you a BMW owner? And you need to get your BMW services in UAE? here are some general steps and information you might find helpful:
Steps to identify problems in BMW:
Identify the Issue:
Before taking your BMW for repair, it's important to identify the specific issue you're facing. This will help the repair technicians diagnose and fix the problem more efficiently.
Choose a Repair Shop:
Dubai has several authorized dealerships and independent repair shops that specialize in luxury car repairs, including BMW. You can choose to take your BMW to an official BMW service center or a reputable independent workshop that specializes in luxury car repairs.
Check Reviews and Recommendations:
Before choosing a car repair garage, it's a good idea to read reviews from other BMW owners and seek recommendations from friends or online forums. This can give you an idea of the quality of service provided by different shops.
Inquire About Services and Pricing:
Contact the chosen repair shop to inquire about their services and pricing. Describe the issue you're facing and ask for an estimate of the repair cost. Make sure to ask about labor rates, parts pricing, and any additional charges.
Quality of Parts:
When getting your BMW repaired, it's important to use genuine OEM (Original Equipment Manufacturer) parts. These parts are specifically designed for your vehicle and ensure optimal performance and safety.
Schedule the Repair:
Once you're satisfied with the repair shop's offerings and pricing, schedule a suitable time to bring in your BMW for repairs. Some repair jobs might require leaving your vehicle at the shop for a period of time.
Diagnosis and Repair:
When you bring in your BMW, the technicians will perform a thorough diagnosis to identify the exact issue. They will then proceed with the repair using the necessary tools and genuine parts.
Regular Maintenance:
In addition to repairs, regular maintenance is necessary to keep your BMW running smoothly. This includes oil changes, brake inspections, tyre rotations, and more. Many repair shops offer maintenance packages that can help you keep up with your BMW's maintenance needs.
Communication:
Stay in touch with the car service centers during the repair process. They might provide updates on the progress and inform you of any additional issues they discover during the repair.
Leading BMW repair garages and service centers in Al Quoz, Dubai
Dar Al Madina Garage
At Al Madina Garage, we proudly present a comprehensive solution for BMW maintenance, repairs, and services across all BMW models. Our team consists of proficient and experienced BMW specialists who employ advanced tools and equipment to offer BMW repair services in UAE at a more accessible cost. Our array of services encompasses BMW inspections, minor and major servicing, engine repairs and rebuilds, transmission repairs and rebuilds, BMW computer diagnostics, and more. Our commitment to customer contentment is unwavering, ensuring a warm and professional atmosphere combined with prompt and dependable BMW services in Dubai.
Al Madina Garage stands as one of Dubai's premier auto garages, having maintained an esteemed reputation for delivering car care services since 2005.
Our goal isn't just to provide outstanding auto service in a single instance; we aim to establish the well-being of our clients' vehicles and remain their trusted auto service partner for years to come. Over two decades of operation in Dubai, this principle remains our guiding light, shaping our policies and actions. This philosophy underscores our approach to auto repair, emphasizing transparency, integrity, and empathy.
We provide a collection of mechanical and electrical repair services for BMW vehicles, covering:
Repairs for BMW engines
BMW gearbox restoration
Transmission overhauls
BMW engine refurbishment
Specialized BMW software programming
Efficient BMW AC system repairs
Thorough BMW engine cooling system servicing
Expert BMW brake fixes
Detailed pre-purchase inspections for BMW models
Deutsches Auto Service Center
With over 25 years of expertise in automotive maintenance, this establishment boasts a team of proficient European car experts. Their proficiency lies in delivering top servicing and maintenance for a range of vehicles including BMW, Porsche, Ferrari, Mercedes Benz, and various others.
In addition to this, they extend a range of supplementary advantageous services. Their offerings encompass premium luxury car service bundles accessible to clientele all over Dubai. They also present comprehensive maintenance packages, encompassing sophisticated automobile diagnostics and a spectrum of auto repair services.
Octane Car Service
Founded in 2005, Octane Car Services has been dedicated to maintaining top automobiles. Their specialization revolves around German and luxury cars, with a focus on an array of services including M Power enhancements, body shop services, meticulous safety inspections, adept electrical repairs, proficient brake and engine maintenance, air conditioning servicing, and transmission repairs.
Moreover, they present additional advantageous provisions. These encompass a concierge service that facilitates convenient pickup and delivery options for their clientele.
Orange Auto
Orange Auto stands out as a rare gem among garages, being among the select few in Dubai to provide 3M car tinting services. Their team members undergo training directly from 3M, ensuring their proficiency, and they exclusively utilize products from renowned suppliers of automotive tinting solutions. Their expertise extends to a range of services, including tinting, paint protection, tyre alignment, oil changes, and brake repairs.
In addition, they extend further advantageous provisions. Notably, they offer the sought-after service of 3M car tinting.
Premium Car Care
Premier Car Care holds a distinguished position as a prominent service center for German and British vehicles in Dubai. Their offerings encompass an extensive array of care, repair, and maintenance services. These services span from comprehensive vehicle checkups and repairs to A/C inspections, car body mending, meticulous car detailing, proficient car window tinting, and beyond.
Mr.Cars
Mr. Cars is distinguished by its skilled team, delivering top automotive services serving European, Asian, and American vehicles. Their range of offerings, including dent and paint restoration, exterior polishing, window tinting, general repairs, mechanical fixes, routine maintenance, and conditioning restoration, are all provided at reasonable rates.
Furthermore, they extend additional advantageous services for enhanced customer satisfaction. They offer the convenience of car pickup and drop-off, ensuring seamless transactions. For those waiting on-site, they provide a comfortable lobby area replete with complimentary coffee and Wi-Fi access, enhancing the overall experience.
Luxury Auto Services
Luxury Auto Services, founded in 2006, quickly ascended to the status of an authorized Bosch Car Service Garage by 2008. Their adept team is comprised of technicians boasting three years of mechanical and technical expertise. Their range of offerings includes rim painting, chassis repair, meticulous polishing, interior waxing, accident repair, automated A/C restoration, transmission servicing, engine overhauls, brake enhancements, and a host of other services.
Moreover, they extend further advantageous services to enhance customer satisfaction. Notably, they provide personalized servicing designed specifically for your BMW, ensuring a bespoke and perfect experience.
Radiant Car
Radiant Car, founded in 1998, has emerged as a distinguished entity in the realm of vehicle services, repairs, and used car trading in Dubai. Their specialization encompasses a wide spectrum of offerings, including transmission repairs, mechanical fixes, electrical diagnostics, and more. Radiant Car is renowned for delivering the most dependable, cost-effective, and amicable car services in Dubai.
Conclusion
In conclusion, BMW enthusiasts in Dubai need to look no further than Dar Al Madina Garage for their BMW services in UAE needs. With a team of adept mechanics who specialize in BMW models, the garage stands out as a beacon of expertise. Their commitment to offering dealer-level services at a reasonable cost ensures that BMW owners can maintain their vehicles without breaking the bank. Moreover, the convenience of 24/7 service availability showcases their dedication to providing prompt assistance whenever it's required. Al Madina Garage truly epitomizes the essence of a top BMW service center in Dubai, combining skilled craftsmanship, affordability, and round-the-clock service to meet every BMW owner's needs.