9 Best Car AC Repair Shops in Dubai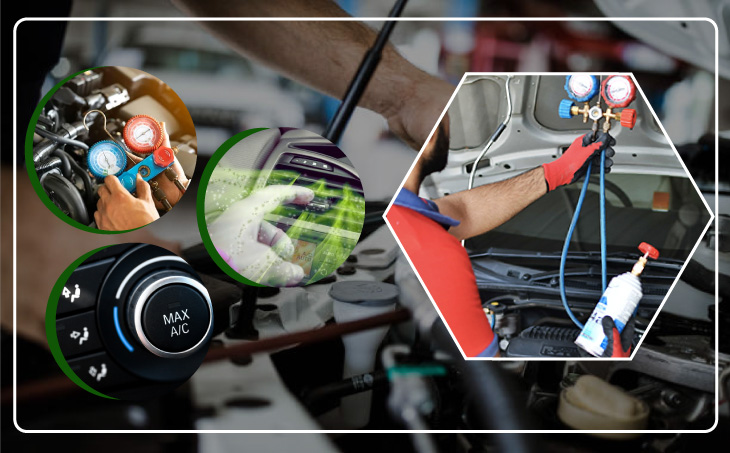 Get car AC repair services in Dubai with professionals
An outstanding automotive air conditioning system is necessary during Dubai's sweltering summers. A working air conditioner is not only a luxury when temps reach 49°C; it's essential for your comfort and well-being. But regular use in this hostile environment can cause Car AC problems. However, with our Car AC repair services, you will get Regular maintenance and prompt repairs at pocket-friendly prices.
Here is a list of well-known vehicle repair shops in Dubai for fixing car air conditioners.
Most Famous Car Ac Repair Shops in Dubai Are
Have a broken air conditioner in your car? It can show up as poor airflow or, in more extreme situations, no cooling at all. The urgent need for repairs is indicated by this. Thankfully, Dubai has a large selection of specialized garages offering professional AC repair services. Check out the following list of the city's top car air conditioning repair services to make sure you keep comfortably cool during the sweltering summer.
1. The Gearbox
Finding car AC repair Dubai shops? Then look no further, The gearbox is the place to go for top-notch auto repair at the best available prices. Their highly trained staff of professionals and cutting-edge tools provide excellent service. They give a dealership-like experience without the high cost, setting a new standard for luxury auto garages. For every automobile enthusiast, their services are your one-stop shop for everything from diagnostics to repairs. Count on the gearbox for top-notch auto care.
Location: Street 16D Al Quoz Industrial Area 4, Dubai
Timings: Mon to Sun (08:30 am – 08:30 pm)
Contact: 800458, 0503245212, 0503245657,0503245329
2. Uniq Auto Spa
Uniq Auto Care thinks that your car deserves nothing less than the best. By using only, the best equipment and methods, their devoted team of professionals guarantees to offer excellent AC repair services in Dubai. They handle everything, from thorough detailing to fine paintwork and thorough mechanical overhauls. Their top priority is making sure your car runs at its best. For a top-notch auto experience, pick Uniq Auto Care.
Location: Al Quoz 3, Warehouse #1, Behind Audi Service Center, Dubai
Timings: Mon to Fri and Sun (08:00 am- 08:00 pm) sat is off
Contact: 971 54 797 9680
3. Profix Auto Car
Profix Auto Care is your one-stop shop for all things involving air conditioning, from simple upkeep to complex repairs. Their customized repair solutions, which are created to fit every budget, are what set them different. You may obtain excellent service from Profix without spending a fortune. No matter how complicated, you can rely on them to keep the AC in your auto car in top shape. Discover the distinction with Profix Auto Care.
Location: Al Quoz 3, 55 6 B Street, Dubai
Timings: Thur-Sat (09:00 am 07:00 pm)
Contact: 971 50 9894674, 971 4 2944 712
4. Al Madina Garage
AL MADINA Garage has been a famous car ac repair Dubai shop for decades. They have been committed to providing top-notch services, such as excellent auto repairs, rigorous ceramic coating and polishing, thorough car wash and cleaning solutions, and precise body and painting, for a seamless and excellent experience with car repair, trust AL MADINA Garage.
Location: Al Qaoz Industrial Area 2 behind AL KHAIL GATE
Timing: Mon-Sat 730 AM -7: 30 PM
Contact: +97143883886
5. Checkpoint
If you want high-quality AC repair services, check out Checkpoint. They use cutting-edge equipment and a team of highly qualified specialists to ensure excellent repairs. Count on them to restore your car's cool comfort. Efficiency and quality are given top priority in every repair at Checkpoint. Discover the difference with their knowledgeable professionals and state-of-the-art machinery.
Location: Al Quoz 4th, 129, 318 roads, Dubai
Timings: Mon to Sat (08:00 am -06:00 pm)
Contact: 971 50 64 77 065
6. Orange Auto
Orange Auto is to be your go-to auto care facility, providing a variety of excellent air conditioning services. They are renowned in the industry and focus on servicing well-known auto brands in the UAE. they stand as one of Dubai's top auto detailing shops, which guarantees that your car receives the care it requires, this is what makes them unique. Your vehicle is in capable hands with Orange Auto. Contact them for outstanding car care.
Location: Al Quoz Industrial 3, 364-425, 319th Road Dubai
Timings: Thu to Sat (09:00 am to 09:00 pm) Fri (03:00 pm to 09:00 pm)
Contact: 971 4 3491551, 971 4 3381551
7. Quick Fit Auto Service
The Quick Fit offers state-of-the-art AC repair services in Dubai, they use the most up-to-date methods to guarantee that your car gets the best care possible. They provide free pickup and delivery services as an extra convenience, making your auto maintenance simple. You can rely on them for prompt, effective, and superior repairs. The Quick Fit is your go-to place for vehicle care because of its cutting-edge facilities. Drive with assurance knowing that your car is in capable hands.
Location: Al Quoz Industrial Area 3, 25C Street, Dubai
Timing: Mon to Sun (08:00am-08:00 pm)
Contact: 054 480 3707, 054 350 1008
8. Premier Car Care
A wide range of car AC repair services, including complete vehicle inspections and precise detailing, are provided by Premier Car Care. This Dubai-based garage, which specialises in British and German vehicles, is your go-to place for high-quality maintenance. They can take care of your car bodywork needs, AC inspections, or premium automobile detailing needs. Premier Car Care guarantees that your car receives the care it needs with a focus on excellence. Drive with assurance, knowing that your car is in good hands.
Location: Al Quoz 1 near ETA, behind the home center warehouse, Dubai
Timing: Monday to Saturday (08:00 am- 06:00 pm)
Contact: 054 714 2655, +9714 339 4770
9. Colour Fair Auto Garage
Since opening in 2005, Dubai residents have come to rely on Colour Fair Auto Garage for high-quality auto repair services. They go above and above by offering automobile towing and round-the-clock emergency road assistance all across the city. They can be contacted immediately with only one call to their special hotline. For added peace of mind, this car garage offers a free 24/7 breakdown service.
Location: Al Quoz Industrial Area 1, Warehouse 09, 13 streets, Dubai
Timing: 24/7 availabity| Friday: 08:30 am to 12:00 pm
Contact: +971 508148146
Final Verdict
As we come to a conclusion with our list of reliable car AC repair Dubai shops, keep in mind how crucial routine maintenance is to the longevity and resale value of your car. If your automobile needs to be serviced frequently, you might want to look into buying a used car in Dubai at a price that is reasonable for the market. Making the right decision today can have long-term advantages for performance and value retention. Drive with assurance by keeping your wheels in excellent condition.