How Car Detailing in Dubai Preserves Your Vehicle's Beauty? Unveiling Expert Secrets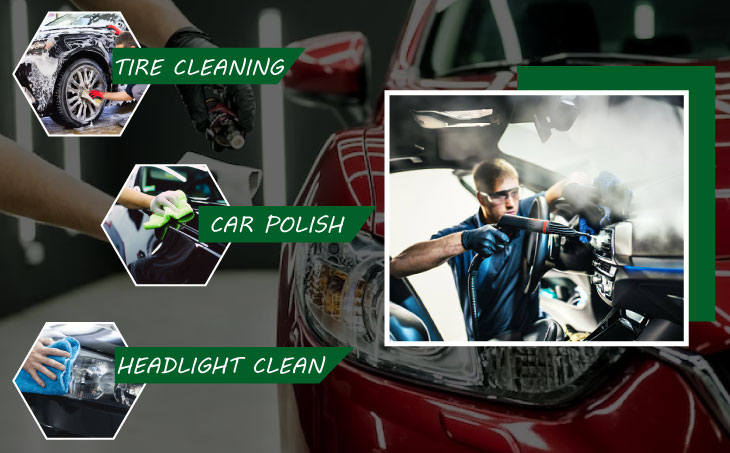 You're not the only one who has ever wondered about the nuances of car detailing in Dubai. What does auto detailing actually include is a common question. So think of this as your insider's manual for learning the art of car detailing in Dubai. We're about to demystify the procedure for both vehicle enthusiasts and newcomers in this insightful piece.
Our Car Detailing Dubai is not your typical car wash; it is a thorough restoration that goes well beyond the exterior. It's a committed effort with the goal of preserving the appeal and financial worth of your car. Regular detailing gives your automobile a long, durable lifespan in addition to making it shine with a brilliant gloss. So let's start our adventure into the world of thorough auto maintenance.
Precision and knowledge are paramount in the car detailing Dubai industry. Our services, which are conveniently located in Al Quoz, go above and beyond the norm to provide your car with an unforgettable experience. We spare no detail in revitalising your valued item, from the flawless exterior finishing to the precise care given to every square inch.
Detailing A Car's Exterior: A Symphony of Attention to Detail and Skill
Our expert hands and specialised tools set out on the exterior detailing adventure to return the surface of your car to its former splendour. To ensure that the results of this process exceed your expectations, each stage has been carefully designed.
Drying and Hand Washing: Far from your typical car wash, this phase demonstrates our dedication to maintaining your vehicle's flawless condition. Every square inch is thoroughly cleaned without a trace of damage thanks to careful attention.
Clay Bar Treatment: Similar to how an artist would smooth down a canvas, the clay bar gradually takes away flaws to reveal a perfectly smooth surface that is ready for the following steps.
Polishing and Waxing: Here, your car is treated like royalty. Waxing gives your car great polish as well as a guard against the weather, ensuring that it keeps shining long after the detailing is finished.
Wheel and Tire Cleaning: Cleaning your tyres and wheels might prevent problems that may lead to more than just aesthetic issues. Our meticulous cleaning procedure stops corrosion, guaranteeing that your car functions properly in addition to looking great.
Headlight Restoration: In this crucial stage, safety and style are combined. Headlights that are clear and bright improve visibility as well as the aesthetic appeal of your car.
Finishing Touches: Every last detail is carefully attended to, from cleaning door jambs to chrome polishing. Your car will leave our care in an unmatched state of perfection since nothing is left to chance.
Interior Car Detailing: Creating Cleanliness and Comfort
A secret gem that can turn your car into a haven of luxury and style is waiting at al-Medina, a centre of busy Al Quoz in Dubai. Car Detailing Dubai Al Quoz involves more than just maintaining its exterior appearance; it also involves creating a space that enhances your driving experience. Come inside as we examine the nuances of inside automobile detailing to make sure your vehicle is more than simply a means of transportation but also a luxurious retreat.
Vacuuming: In our Car Detailing Dubai, Vacuuming is the first, surprisingly straightforward yet important step. Our detailers find and remove bacteria, dust and filth that have been hiding in your carpets, seats and surfaces using a powerful vacuum. This careful procedure ensures that you and your passengers will be in a cleaner, healthier environment.
Upholstery Cleaning: This procedure revitalises the inside of your car and is especially important for leather seats. Seats are susceptible to stains and damage over time. Our specialised cleaners and conditioners perform their magic, extending the life of your car's seats while restoring their lustre.
Glass Cleaning: Beyond being aesthetically pleasing, clear windows and mirrors increase driving safety. Our detailers remove smudges, stains, and streaks using high-quality materials to make sure your view is unobscured and clear.
Odour Removal: Use our specialised Car Detailing Dubai Al Quoz service to get rid of bad smells in your car. An interior that smells good enhances both your driving experience and the air quality, making the trip more enjoyable for both you and your passengers.
Hidden Interior Areas: The dashboard, vinyl surfaces, and air vents are all given meticulous attention. The dashboard should be conditioned to prevent cracking and fading and thoroughly cleaned to keep every crevice spotless. These painstaking processes result in an interior that not only looks amazing but also enhances the driving experience like no other.
Boost Your Car Look with Our Additional Car Detailing
Services
Engine Bay Cleaning: The engine bay needs care just like any other component of your car does. To provide a complete cleaning and promote maximum performance and longevity, we use specialised materials and equipment. Future problems can often be avoided by keeping the engine bay clean.
Trim Restoration: Exterior trimmings may get dull with age. Our trim restoration procedure gives these components new vitality, boosting the overall appearance and maintaining the value of your car.
Fabric Protection: It's crucial to maintain the interior integrity of your car. With the help of our fabric protection service, we can provide a barrier to protect delicate surfaces like seats and carpets from spills and stains. This protection guarantees that the interior of your car will stay spotless.
Conclusion
There are still other possibilities, though. Explore our extensive list of specialised services, which includes the revolutionary ceramic coating. Your car's paint is strengthened by this additional layer of armour, providing resistance to dings and grime. Our mobile services, which accommodate the demands of your busy schedule, offer the expertise of car detailing Dubai to your doorstep for those seeking the utmost convenience.