Get Affordable Car Repair & Maintenance Services with The Best Car Service Station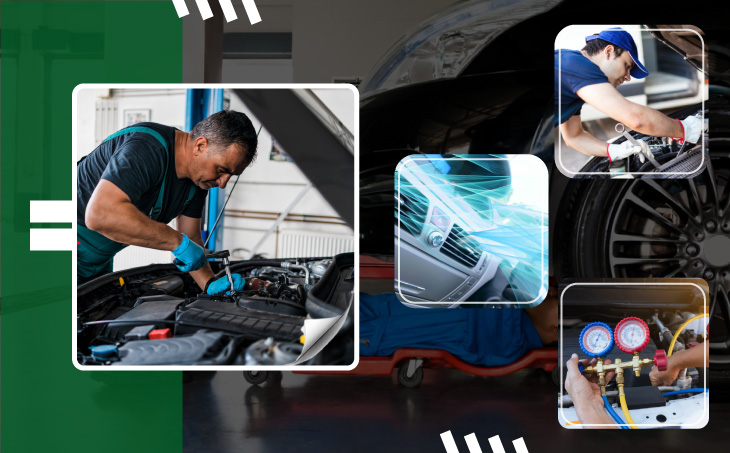 The importance of a dependable automotive AC system for a driver in Dubai cannot be emphasized, especially during the sweltering summer months. To ensure comfort and convenience on the road, finding the best auto car service station in Dubai is essential when your car's AC starts acting up. But there are so many choices that it might be daunting to choose. We'll travel through the world of automobile AC repair services in this guide, illuminating the numerous kinds that are offered. We'll also discuss important factors to take into account when selecting the best service and provide advice on how to get the best prices. Watch this space for professional advice on maintaining composure while driving!
Why It Is Important to Take Regular Car A/C and Maintenance Services?
The stress on automobile air conditioning systems during the sweltering UAE summers is palpable. We at Al Madina Garage, a reputable auto repair facility in Dubai with years of experience, understand how crucial it is to maintain these climate-controlling systems in excellent working order. Maintaining your car's air conditioning system is essential for a comfortable trip, not just a luxury.
We provide experienced air conditioning repair, servicing, and maintenance in addition to a wide range of heating and cooling system diagnostics. Look no further, contact excellent Car Service al Quoz if you are in search of a car repair shop in Dubai that can perform A/C services with the utmost accuracy and effectiveness. We offer flawless, affordable services, and for those unforeseen circumstances, we even offer emergency car repairs in Dubai.
COMPREHENSIVE CAR AC REPAIR SOLUTIONS Everyone Gets with Our Car Services Station IN DUBAI
Al Madina Garage is aware of the critical role an efficient AC system plays in the driving experience, particularly given the harsh conditions in the UAE. For this reason, we provide a wide variety of car AC repair services that are specifically designed to handle a range of probable problems.
AC System Diagnostics:
Using cutting-edge diagnostic equipment, our Car garage in Al Quoz works with a professional team that has the ability to examine every nuance of your AC system. We are able to identify the root causes of faults thanks to our careful methodology, resulting in precise assessments and focused fixes.
Low refrigerant levels may be the cause of your car's AC system's difficulty maintaining a comfortable temperature. Our specialists are exceptional at precisely recharging the system with the appropriate amount of refrigerant, restoring its cooling capacity.
Breakdowns in an AC system can be caused by worn-out parts like compressors, condensers, and evaporators. At Al Madina Garage, dependability is a top priority. We therefore provide seamless component changes using premium parts to ensure long-lasting performance.
4. Leak Detection and Repair:
Leaks of refrigerants are renowned for reducing the effectiveness of air conditioning systems. Professionals available at Our car services station are skilled experts who have the knowledge to quickly identify and fix leaks, restoring the system's optimal performance.
Finding the best and most affordable car service station in Dubai is not everyone's cup of tea, to get the best car repairing services in a few clicks visit Al Madina Garage, a perfect destination that resolves all issues without charging any extra amount of money.
Why does car station service matter?
Choosing the best car service facility is crucial, whether you're looking for a mobile car repair services in UAE specialist or a general vehicle maintenance expert. There are many service stations in the UAE, but they vary in a variety of aspects, including the services they provide, the costs, the location, the amenities, and the level of expertise. Choosing the proper store has various advantages, some of which are as follows:
Reasonable cost
Timely services
100% customer satisfaction
Brand-Specific Expertise
How to Choose the Best Car AC Repair and Maintenance Services?
Visiting a car garage in Al Quoz is the best option if your car is not working properly, but among many service providers choosing the best car service station requires careful consideration of a number of important variables. Here is a guide to assist you in making a knowledgeable choice:
Service Type:
To begin, learn about the variety of services the car service station provides. While some excel in engine repairs, others are specialists in particular fields like panel beating or wheel services. Make sure they are knowledgeable about the servicing your car requires and that their mechanics have the manufacturer's certification.
Place Matters:
Convenience is important. Choose a car service station in Dubai that is close to your location. Even if a platform provides quality repair services in Dubai, it might not be practical if you have to suffer arduous travel times to get there.
Infrastructure and Equipment:
A top-notch servicing center needs to be furnished with contemporary amenities, such as a large garage and cutting-edge computerized machinery. This guarantees the provision of accurate and effective services.
Pricing Transparency:
Reputable service providers offer precise cost estimates for each task. Call them or ask for a free estimate for the particular services your automobile needs.
Certifications and Expertise:
Verify the center has the appropriate licenses and accreditations from the automaker for the services it provides. Additionally, demand to work with mechanics who are knowledgeable, skilled, and experienced with your particular car model.
Guarantee and Warranties:
Service quality is attested to by warranties offered with services. Ask about the terms of the coverage and the warranties that are being supplied. Another crucial indicator of high-quality service is customer happiness. To evaluate their reputation, look for reviews on their website or ask for recommendations.