Top 10 Car Repair Mechanics in Al Quoz Dubai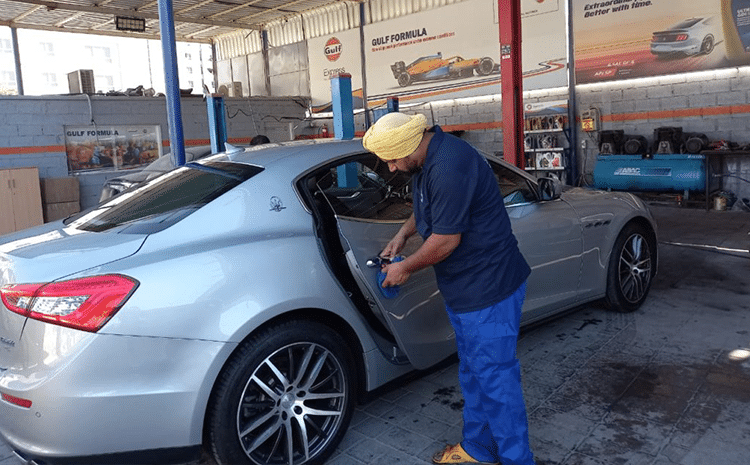 Top 10 Car Repair Mechanics in Al Quoz Dubai
Introduction
According to a recent survey, 50% of the UAE population owns a car or one out of every two persons. Even though there is a lot of public transportation available, individuals in the UAE prefer to drive their vehicles. It is required to own the car if it is well maintained.
A car auto shop, sometimes known as a car mechanic in Al Quoz or a workshop locally, is a foundation where auto mechanics and professionals repair automobiles. I've put together a helpful list of car service firms in Dubai, so you don't have to go looking for car service in Dubai every time your vehicle requires service.
Dar Al Madina Garage is one of Dubai's leading car servicing companies and one of the country's largest multi-brand automotive service networks. Their cutting-edge diagnostic and repair facilities employ qualified and skilled technicians that can assist you in determining the most satisfactory solution at a fair cost.
Services
Dar Al Madina provides the following services:
Periodical Maintenance
Computerized Diagnosis
A/C repairs
Injector Diagnostic Testing & Servicing
Mechanical Repairs
Electrical Repairs
Engine Management
Body Electronics
Body repairs and Painting
Car Wash & Cleaning
Car Ceramic Coating & Detailing
ZDegree
ZDegree is one of the major companies in Dubai that provides vehicle repair services. Whether you're a single client or a business with a fleet of vehicles, ZDegree can help you with all of your automotive issues. ZDegree has eight operational centers around the UAE; therefore, if you search for "auto servicing firms near you," the company's service center will most likely come up.
Services
Pre-Purchased Services
Purchasing a car is a time-consuming procedure that requires a large financial expenditure. When purchasing a used vehicle, it is recommended to obtain an expert opinion on its condition. You can test a vehicle with ZDegree before making a final decision. A thorough car inspection can reveal all of the vehicle's possible problems. Though it is an additional cost, this simple inspection can save you a lot of money on future auto repairs in Dubai.
Automotive Service
ZDegree provides all standard services, such as mechanical, electrical, vehicle components repair, tyre, car washing, A/C, and oil change.
Mobile Tyre Services
Do you fear having to replace a flat tyre? For you, ZDegree has the ideal solution. One of Dubai's best tyre shops, carrying all major brands. ZDegree is Dubai's first car service provider to offer an online tyre shop. Tires will be replaced by trained personnel at the designated site, but that's not all. On-the-spot wheel balance and nitrogen filling are possible. So, even if you're in the middle of your travel, you can call for assistance.
PerfectFix
PerfectFix is one of Dubai's oldest automotive service companies, having been in operation for over three decades. The skilled crew can repair your vehicle regardless of the model or manufacture. PerfectFix is also one of Dubai's best auto polish service centers.
Customers appreciate the fact that Perfect Fix provides pick-up and drop-off services. If you have your automobile picked up in the morning, it will be repaired and returned to you in the evening, saving you time and effort. As a result, it's no surprise that it's one of Dubai's best car repair shops.
Services
General automobile maintenance
Oil change
Brake checking, repair, and services
Tyres checking, repairing, and replacements
Wheel balancing
Denting and painting
Interior and exterior polishing
Major engine repair
Muffler and exhaust Work
Steering and suspension work
Diagnosis
Premier
Premier Car Care is also one of Dubai's most well-known car service providers. The staff regularly goes through rigorous training to become familiar with modern techniques and advanced mechanical tools.
Luxury automobiles are looked after by specialist personnel. So, if you possess a high-end car, this can be the best option for your Dubai car service
Services
Full Checkup
Repair and Maintenance
A/C Checkup
Body Repair
Detailing
Window Tinting
Orange Auto
Orange Auto is a family-owned business in Dubai that provides excellent automotive servicing. They have to ensure that your car's performance continues at the peak of automobile owners' care for automobile owner's owners' care forts. Only branded components and accessories are installed. Orange Auto has a reputation for being one of Dubai's most customer-friendly car maintenance firms.
Services
Tire & Wheel Care
Oil Change for Cars
Battery Care
Car Care
AC Repair
Car Wash Service
Brakes & Suspension
Gearbox
The Gearbox has been serving Dubai residents for over 15 years and is one of the major vehicle repair garages in the city. It is the ideal location for affordable car care, maintenance, and restoration services. They provide 24-hour emergency roadside assistance and car towing in addition to garage maintenance.
Services
The services list includes:
Maintenance and Repair
Rim Repair & Restoration
Scanning and Diagnostics
AC Services
Premium Oil Services
Major and Minor Services
Transmission Repair
Engine Repair
Pre-purchase inspection
Brakes Services
Suspension Services
Battery Services
Body Work
Paint Services
Ceramic Coating Services
Convertible roof Repair
Upholstery Work
Pal Auto Garage
Pal Auto Garage is an RTA-authorized Vehicle Testing Centre and one of Dubai's most cheap vehicle repair shops. Their 45,000-square-foot workshop has all the technology needed to take care of your automobile. They are currently collaborating with a large number of vehicle insurance firms. The organization handles every part of automobile care, from diagnostics to full repair work.
Services
Lug bolt inspection
Check oil
Fill washer fluid
Tire depth check
Brake inspection
Spark plug wire check
Power steering fluid check
Brake fluid check
Fuel pressure regulator inspection
Timing belt inspection
PAL Auto Maintenance Procedures
Battery cleaning
Windshield wiper replacement
Radiator flush
New spark plugs
Fuel filter replacement
ABS sensor maintenance
Replace brake pads
AAA Car Service Center – H2
Are you looking for a 4×4 automobile repair shop in Dubai? AAA Car Service Centre is an excellent option. Their knowledgeable staff offers a variety of general and mechanical maintenance services. In the event of a car breakdown, they also provide 24-hour support. Their staff of 4*4 experts is regarded as one of the best in Dubai.
Services
Vehicle Service
General Repairs
Inspection
Diagnostics
Electrical
Air Conditioning
Recovery/Transportation
Body Works & Restoration
Spare Parts
Fabrication & Modification
RTA Vehicle Inspection
End of Life Vehicle Instant Scrapping
Speed O Garage
One of the major garages in Al Quoz – Dubai, Speed O Garage, seeks to give automobile owners the best repairing and maintenance service in the region. They strive to deliver the finest service possible, with no delays, so that your life may return to normal as soon as possible!
They are proud of their qualified staff of auto-body mechanics' skill and experience, which allows them to service all brands, makes, and models of cars with flawless results. They are automotive enthusiasts who would be pleased to share their knowledge and serve you.
Sunshine Auto Repairing Workshop
Sunshine Auto Repairing Workshop is a wonderful choice if you want a rapid, effective solution to all of your car problems. They provide a comprehensive range of services for all vehicles at competitive costs. Even better, you can make an appointment through their official website.
Services
AC Repairing
Annual Maintenance Contracts
Belts and Hoses
Body Works
Brake Repair
Car Customization
Car Restoration
Electrical Works
Engine Diagnostics
Fleet Management
Lube, Oil, and Filters
Mechanical Works
Other Car Services
Pre-Buying Inspection
How to Find a Great Car Mechanic?
According to studies, consumers have a higher level of satisfaction with independent stores than with vehicle dealerships. Finding a dependable car repair, on the other hand, needs more than just letting your fingers do the walking. You'll have to undertake some old-fashioned detective work. There is no one-size-fits-all guide to what constitutes a good repair shop, but here are a few characteristics to look for:
Look for a Shop that Sells your Car's Brand
Many garages specialize in specific automobile models. Those who specialize in your car type are more likely to have the most up-to-date training and equipment to repair it.
Inquire with your Relatives and Friends
Seek recommendations from others who own a vehicle that is comparable to yours.
Lookup Information on the Internet
Files are caring for good care for automobile owners places to look for information on area mechanics. Cartalk.com offers such services for free, Angie's List requires a subscription, and Consumer Reports' online subscribers can use the vehicle repair estimate for free.
Examine the Certification
The National Institute for Automotive Service Excellence, or ASE, should certify your mechanic and shop.
Take a look Around the Store
Before you take your car in for a major repair, check out some local shops specializing in minor repairs and maintenance, such as oil and filter changes.
Inquire About Warranties
What kind of warranties does the shop offer on its repairs? Warranties differ widely amongst stores, so inquire about them ahead of time. As a starting point, consider a common repair like brake repairs.
Check to See if the Store is Convenient
Even the greatest shop may not be worth the effort if its hours are inconvenient for you or you have limited transit alternatives after you drop off the car.
Conclusion
These are the top ten vehicle repair shops in the UAE. There are a couple more service facilities that give excellent customer service. Most people avoid having their automobiles inspected for fear of incurring additional fees. However, all of these mechanic's charge reasonable rates for their services. Furthermore, if your car is insured, the insurance provider covers the cost of accidental repairs. As a result, you should always have your car tested frequently.